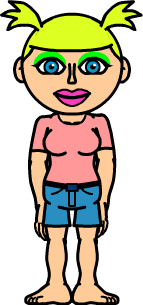 Blondie is one of the famous (most likely) Bitstrips basic created by Buddy.
Appearance
Edit
Blondie is, as her name suggests, blonde. She has neon green eyeliner and her hair is in pigtails. She is wearing shorts and has pink lipstick, and lets not forget that she is bare-footed. Furthermore, this bitstrips Basic is a Famous & Feautred.
Appearances and ratings
Edit
Because she has blonde hair, she is usually portrayed as "dumb". She has 2,096 appearances total. She has 31,702 laughs, 17,540 favorites and 8,188 groans.