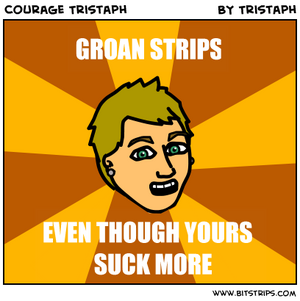 Courage Tristaph is a series of comics featuring the user Tristaph's head and captions about ironicness of users, random jokes and other things. It has over 200 remixes, being one of Bitstrips' most popular memes.
Courage Tristaph comics are easily recognizable from their orange, triangular backround. They use Impact, a font not native to Bitstrips, making it hard to regain back without undoing  a few step in the process of making it. Sometimes people will change it to "Courage (username)", with their own username and their head.
The first one was made over two years ago on February 11th, 2011 with the caption "Groan strips-Even though yours suck more", with Tristaph smiling at the user.