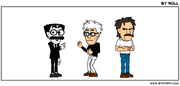 Famous and Featured
characters are characters made by users that aren't, for the most part, 
Buddy
, who appear in your comic builder for you to use. Most of them are people represented in famous fiction, politics, or in media. Some, however, are fictionals from the mind of users.
List of famous and featured
Edit
There is 10 pages of famous and featured characters. Here is the list.
Andy
Banana Man
Barack
Barack Obama
Bigfoot
Bill Gates
Blondie
Borat
Charlie Sheen
Conan
Cory Doctorow
Darth Vader
Dave
Dick Cheney
Eugene Mirman
Fidel Castro
Frankenstien
Garabella
Garofalo
George
George Bush
GROUCHO
Happy Pee
Henry Jenkins
Hillary
Howard
Ice Cube
Jack Layton
James Brolin
Jay
Jesus
Jian
Jim Beacon
Jim Lehrer
Jobs
Joe Biden
John
John McCain
Keestrokula
Kurt Russel
Lee Perry
Lou
McCain
Micheal Moore
Moby
Mr. Tooth
Obama
Oprah
Peephole
Penguano
Poe
Pop-pop
Psychoberry
Rat
Rick Sanchez
Sarah Palin
Satan
Scobelicious
Skull
Smitty
Squiggles
Stan Lee
Stephen (1)
Stephen (2)
Stephenharper (1)
Stephenharper (2)
Stipe
Terminator 1
Terry
The Dude
The Joker
Tom
Tom Brokaw
Toots
Top Hat Jack
Vicky
Walter
Warlock
Wilhelm
Wolf Blitzer
Worf
Zate Mellow
Zuckerberg (1)
Zuckerberg (2)
How do I get to use one?
Edit
It's simple: Go to the tab "Characters" in the comic builder. Once there, select "Famous and Featured". Then you can use which ever one you want, when ever you want.
There is certain characters with the exact same name: 2 Zuckerbergs, 2 Stephen (Hawkings) and 2 Stephenharper. However, many other characters with similar names represent politicians.
Blondie is the only Bitstrips basic on the list.