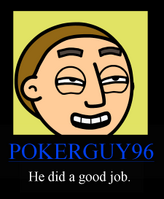 Good Job, Pokerguy96! is a Bitstrips meme created (and obliviously so) by Fireice456. On a strip of Pokerguy96's that appeared on Front Page, Fireice commented (With a smile and goofy looking mismatched eyes), "Good job pokerguy96!"

So then Pokerguy's like, "Oh, that's pretty funny."
And everyone else is like, "Yeah?"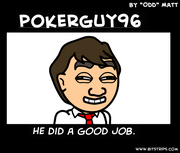 And he's all like, "Yeah."
And so, this spawned a mass of Fireice456 imitators, going on with their "Good job this" and "Good job that".
ExoGenesis says "Good job, Amir173", something similar to this.