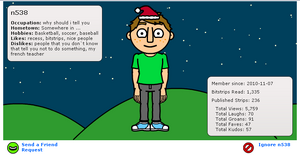 The Ignore List is a feature in Bitstrips that blocks users. An ignored user won't be able to Bitmail you, and this person's comments will be deleted from all your strips. In addition to this, you won't be able to see this person's comments on other's strips.
How to ignore someone
Edit
The only way to ignore an user is going to his/her profile, and click on Ignore User. Done. You can un-ignore them by going to settings (beside the logout button), scrolling to the bottom of your screen and clicking on 'view ignored users'. a list of the users you ignored will show up, and click the 'un-ignore' button beside their name.
How can I know if someone's ignoring me?
Edit
Go to his/her profile. If there's a the 'Message User' button, you're not being ignored, but if there isn't, you're in their ignore list. However, with new users, some users actually just can't be messaged, and the message icon is gone, despite not being ignored by them. This is possibly due to the age limit.