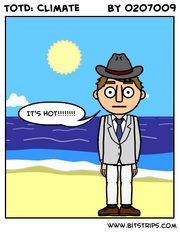 0207009 is a Bitstripper who became well-known for his Bitstrips, which were not exactly "top-notch", but many people considered funny. He is most known for his Bitstrip in the Theme of the Day: Climate, including his avatar standing on a beach, saying "It's Hot!!!!!!!". His strip, published on June 10, 2010, despite being somewhat basic, was viewed positively by the Bitstrips community, and It's_Hot is still quoted and referenced to in many Bitstrips.
Background

Edit
Despite the fact that many believe that 0207009 is a nooby troll, he is really a student in elementary school. Observing the names of most of his friends, you can see that they all contain 7 numbers, hence his name containing 7 numbers. You can theorize that his teachers couldn't afford the costs of BSFS (Bitstrips For Schools). It is still not proven either way. The users thought to be his teachers are mrgallagher and msleungisf.
The success of "It's Hot" was followed by many sequels. The first of these sequels was "Theme Of The Day: Foolish". This depicted 0207009 standing in front of a beach, shouting this time, "I am fat!". This was followed by "I am flying!", "Learn!Learn!Learn!"  including some minor ones like "Crators are holes in the ground!" and before the It's Hot meme, "Brush your teeth everyday!"and countless more.
Musical Debut
Edit
Bistripper and famous " Bit-Tunes" record producer,
Portizoa
, convinced 0201009 to record an album. The result was "Hot Hits!", a David Bowie inspired Glam Pop record. It included songs like "I am Jonathan", "Campbell's", and "It's Hot". It also included the music videos for "The Lawrence Dance" and "Flying". It was nominated for the category of "Easiest Package To Open" at the Bitstrips music awards.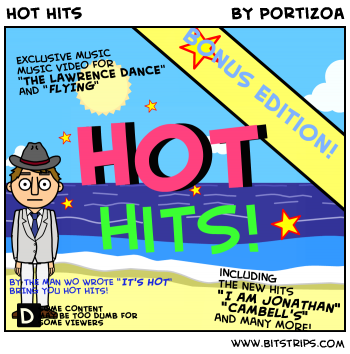 Sooner or later, it had to happen. And it happened: a Facebookgroup was created. On June 12, Matt Buckner aka WTFMan and more recently ThePanic thought: 'Hey, why not make a Facebookgroup for that hot guy?' And so,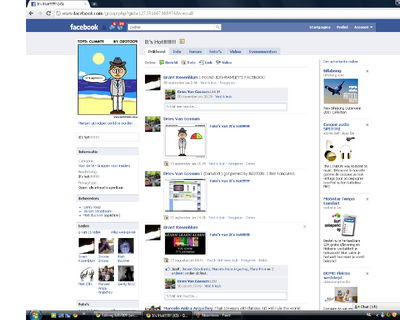 the best facebookgroup ever was born.
References to It's_Hot
Edit
It's_Hot was popular among many Bitstrippers, and as noted abovem was referenced in many popular serieses.
Some of the serieses that included homages to this meme include:
In the Barbecool plot of Teenz, a series by The Driver, Simpsonsbart tells Aranya104 to cook a chicken so that it is hot. Seconds later, she comes back with the chicken, dressed like It's_Hot.
In Gabriel Cast.'s series Indiana Bones and the Raiders of the Lost Ark, a parody of Indiana Jones, an episode has It's_Hot teaching a class about the climate in a certain area, saying that the area is 'really, really, really, really green', and telling them to 'learn, learn, learn'. When he is asked about the area's climate, he says, 'It's Hot!!!!!'.
Controversy
Edit
0207009 is criticized for having simple strips that have "no humor". Many users who do not get the meme or are new will complain about his comics being simple and dull.