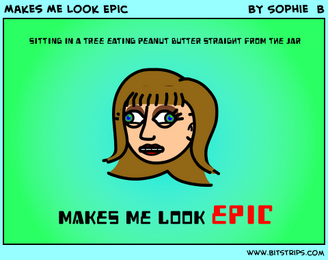 "Makes me look epic" is a mini-meme made by Sophie B. It is a bit like the "Courage Tristaph" meme, only it features Sophie B instead of Tristaph. She originally made a few of the comics to see if anything would happen, but tons of people remixed. As of now, the series has 27 episodes. It was started August 12, 2011.
Description
Edit
A "makes me look epic" comic is very simple: It has a blue-turquoise background with the gradient circle, the user's (usually Sophie's) head with eyes facing opposite directions, something stupid or dull which doesn't seem epic, with the caption "makes me look epic" at the bottom. It is typed in the font "computer".
Controversy
Edit
Once popular, it spread around a little, remixed by many, including a few people who didn't like it much. Sophie has been told it isn't very original using the same punch line over and over, and she responded (in a quick interview via chatbar) "haters gonna hate".