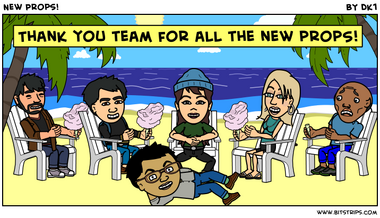 September's prop update was an update that introduced many props, inlcuding hidden props, one of which is the famous ladder prop.
The update came September 22nd, 2011. It introduced some new sections, such as "Beach" and "Toys". The new sections include Beach_ball, Frisbee, water_pistol, and Beach_pail. Not only was there brand new props, but some old props got a new feature, the layering feature.
A new feature, it allowed users to make people sit in chairs, baskets, and in the trash can.It also made it easier for layering garbage, Easter eggs and the like. The props that got the new feature or another that weren't in this update were:
Basket_easter
Bathtub
Bunkbed
Dog_house
Entertainment_center
Garbage_can
Hotdog
House_01
Lawnchair_01
Love_seat
Shopping_kart
Swing
Swingtire
Toilet_paper
Trashcan
Ugly_couch
Wastebasket
Many props that came out at this update were hidden, but were put into catagories eventually.
Many other props and furniture got the layering eventually.
This update introduced the 'in the news" title prop.
All of the trees in this update are in props.
External links
Edit