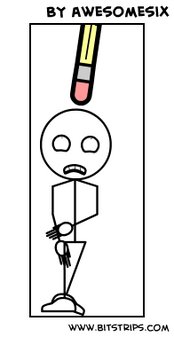 Sticky the Bitstrips Basic is, as his name suggests, a stick figure. What is so unusual about him is the only way to access him is the comic builder. Due to not having a profile, not much is known about when he first appeared. He is treated as an object rather than a character.
Appearance
Edit
What more can be said other than he's your typical stick figure. He has a circular hand with five fingers, a circular head with two circular eyes with black pupils, and the body of a stick figure. 
If you make a comic with him, he won't show up in the cast box. The same applies with the dog or the cat.

Out of those 3, he is the only Human character, and the only Bitstrips Basic. (as human as a stick figure could be.)

For some reason, you can't make him squint, or any other form of half-closed eyes.
He may be based off of the stick figure in the comic builder that lets you pose your characters, but this is most likely just a coincidince.

The only differences are that Sticky has a mouth, pupils and fingers while the stick figure in "controls" doesn't.

He is the thinnest character on bitstrips (due to being a stick figure).