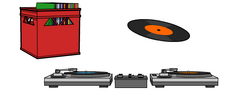 Non-catagorized props are props that can only be found by searching their name or a tag they are linked with. The oldest have been around since the prop update in late September, 2011. It is currently how any new props are released to the site, making it difficult to find if you do not know what they are called.
However, there is a way to find all the hidden and new props. You only need to ask.
September-October 2011
Edit
Basic_ladder
Bee
Butterfly
Butterfly_monarch
Pool_chair
Pool_floatchair
Pool_lifeguard_chair
Printer
Prism_rectangular
Prism_triangular
Pyramid
Single_bed
Single_bed_extra
Solar_panel
Step_ladder
Stretcher
Sushi
Swimming_pool
Tablet
Tornado
Traffic_lights
Tricycle
July 2012
Edit
Backpack1
Backpack2
Barbers_chair 
Boombox
Briefcase1
Bush02
Cabin
Castle
Chair_salon
Clutch
Cornerstore_shelf_1
Cornerstore_shelf_2
Couch2
Dentist_chair
Dentist_counter
Doctor_bench
Doctor_scale 
Doctor_shelf
Donut
Donut_chair
Paperbag1a
Paperbag2a
Patio_table
Planet_earth
Profile_bg
Purse2
Pyramids_egypt
Scene_ground
Scene_sky
Shop_front 1-8
Smoke
Space_shuttle
Spacestation
Stool
Wagon
Wall_angle
Wall_short
Wheelbarrow
Y
October-December 2012
Edit
Ballot_box
Blinds_3d
Bow
Bowl_cransauce
Bowl_gravy
Bowl_mashed
Chair_dinner1
Chair_dinner2
Chair_dinner3
Chair_library
Coffee_table2  
Coffin_newhorz 
Coffin_newvert
Coffin_oldhorz
Coffin_oldvert
Coffin_table
Computer_monitor
Curtains
Desk_office
Dj_crate
Dj_decks
Gift_sack
Grave_stones
Greeting_card
Haunted_house_b
Haunteb_house_f
Haunted_house_pl
Office_chair
Office_chair2
Paint_brush2
Paint_palette
Paint_tubes
Picket_sign
Picnic_blanket
Pie
Plastic_santa
Plastic_reindeer
Plated_dinner
Podium2
Poppy
Roast_ham
Rooftop_chimney
Rope_rail
Santa_silhoutte
Santa_sleigh
Serving_dish
Snow_shovel
Soccer_goal
Splash
Staff
Vinyl_record
Volleyball_net
Vote_button
February/March 2013
Edit
Badminton_racket
Baking_tray
Baseball_base
Beach_towel
Billy_club
Book2
Bottle2
Bowl_stuffing
Boxed_candies
Candy
Canoe
Car_siren
Chest1
Chest2
Chili_pepper
Cricket_ball
Cricket_bat
Cupcakes
Cupids_wings
Fishing_net
Fishing_rod
Flashlight
Flower_bouquet (1-3)
Foam_hand
Folded_clothes
Folded_towels
Gold_ring
Golf_caddy
Golf_clubs
Golf_flag
Golf_hole
Hacky_sack
Heart_anatomical
Heart_arrowed
Heart_balloon
Heartbow_arrow
Hearts_chocolates
Hotdog_stand
Paddle
Paper_cup
Pinata
Pinata_stick
Pingpong_ball
Pingpong_paddle
Pingpong_table
Pitchers_mound
Pool_cue
Punch_bowl
Punch_cups
Punch_ladle
Scene_water
Sepak_ball
Shot_put
Shower_curtain
Shuttlecock
Sleeping_bag
Soccer_flag
Spit
Sportsfan_flag
Swan_boat
Table_long
Taco
Teddy_bear (Valentine's day)
Tent
Tissue_box
August 2013
Edit
Acupuncture_needle
Apple2
Arrow
Baby_bottle
Baby_bundle
Baguette
Bananas
Barrel
Barrel2
Bear_mace
Beehive
Bee_large
Billy_club2
Birds_nest
Blender2
Blob
Board_game
Boulder
Box
Box_negative
Broken_glass
Broken_line
Broken_window
Broken_window2
Bucket
Bull_skull
Cape_action
Car
Cardboard_sign
Cassette_tape
CD
Cereal_box
Chair_strapped
Chandelier
Chinese_takeout
Chips_bag
Chisel
Cigar
Cigarette
Cigarette_pack
Convertible
Construction_stuff
Cookingpot_big
Couch3
Couch_bloody
Craps (game)
Dart_board
Dart_board2
Dart_pin
Dead_plant
Defibrillator
Dice
Diving_board
Dog_bowl
Dynamite
Effects1
Electric
Explosion2
Fancy_cocktail
Film_segment
Floppy_disk
Fruit_garnish
Gavel
Giant_cheque
Giant_spoon
Giant_vice
Glass_shard
Gun_fire
Hand_drill
Hammock
Handgun
Highjump
Highrise 
Hole
Home2chair1
Home2chair2
Home2chair3
Home2ent1
Home2ent2
Home2ent3
Home2kitchen1
Home2kitchen2
Home2kitchen3
Icecream_tub
Icecube
Iron
IV
Jacket_floor
Jackhammer
Javelin2
Logo_bitlife
Lollipop
Log
Longjump
Lowrise
Magic_carpet
Mallet
Manhole
Martini
Medical_implements
Megaphone
Melon
Melon_stand
Minifridge
Money_cu
Moonshine
Moving_dolly
Mushroom_cloud
Olympic_podium
Oval_mirror
Pacman_shape
Phonecord_divide
Pizza_box
Pizza_dough
Pizza_topview
Playing_cards
Poker_chips
Poker_table
Polevault
Pole_vault
Polygraph
Poop
Poptart_nyan
Power_pole
Pricetag
Proprietary_cables
Punchbowl_liquid
Sausage
Scene_grass
Seagull
Shackles
Shoe_chewedup
Shot_glass
Slurpy
Slurpy2
Spatula_large
Sqeegee
Stats_card
Strawberry
Street_lamps
Sword_broad
Sunglasses
Surf_board
Swimsuit_floating
Takeout_box
Takeout_box1
Taser
Taxi_stuff2 (first won't load)
Teabag
TNT_detonator
Toilet2
Toolbox
Toy_box
Tumbleweed
Twig
VHS_tape
Vomit_worm
Voodoo_pin
Watering_can
Wave_surf
Well_wishing
Whip
Window_2
Window_3
Window_4
Window_5
Window_6
Worm
September-December 2013
Edit
Hanger
House_iso1
House_iso2
House_iso3
House_iso4
House_iso5
House_iso6
Scroll_flat
Scrub_brush
Sewing_machine
Stats_overlay
Telescope
Thought_bubble
Tooth_loose
V
One of the things about hidden props is they're harder to find. Why hide them? Here is some theories:
The devs couldn't find good places for them.
They wanted to hide them. Most of the props above could fit into a category of props. (The prisms, pyramid, cylinder and cube coud be in their own, same with the hot tub, pool and the pool related props.)
The wheelchair prop was hidden once, but was put into the category "vehicles". The same goes for batteries, clock radio, smart meter and many others.
Among the hidden props is the ladder prop, something the Bitstrips community had (jokingly) demanded for a long time and expected never to get.
There is a line missing on one of the space station's panels.
There is a currently unaccesable item, "taxi_stuff", that is possibly a future prop.
During the duration of hidden props,the fire, cloud and liquid effects, along with the sun and stick prop's looks were improved.